Germantown, MD Pizza Restaurant and Take Out
Manginos
When you want hot fresh pizza and subs call Manginos in Germantown, MD for pickup or fast delivery. We make gourmet artisan pizza and subs stuffed full of toppings and flavor. Our pizza dough is trans-fat free and made freshly with extra virgin olive oil. Located conveniently at the intersection of 355/118, stop by for lunch or on your way home for a quick pickup order.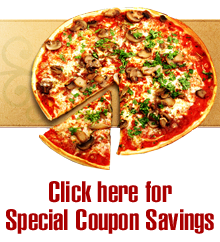 Manginos' Menu Includes:
Fresh Salad
Gourmet pizza
White pizza
Vegetarian specialties
Boar's Head cold cut subs
Philly steak subs / chicken subs
Buffalo wings / chicken strips
Soft drinks
Desserts
We have daily specials!
Ask about our catering services.
Call Manginos today at 301-528-5600 for pickup, or fast delivery within a 5 mile radius. If you have any other questions or comments, please contact us at info@manginospizzagermantown.com.
20510 Frederick Road
Germantown, MD 20874
Hours of Business:
Open 7 Days A Week
Sunday - Thursday: 11:00 am - 10:00 pm
Friday - Saturday: 11:00 am - 11:00 pm
Methods of Payment:
Cash